10 Spring Maintenance Tips to Keep Your Home Good As New
---
Spring — with all of its glorious sunshine, warm temperatures, and colorful blooms — has arrived in Pittsburgh! But before you start taking long weekend trips to Cucumber Falls or spending the day with the kids at Idlewild, there are a few things you should do after the cold winter season to make sure your home is well-maintained and good as new.
If you've just moved into your new Weaver home, you won't have to worry about many of these items for quite some time, but it doesn't hurt to get into the habit of checking. A day of preventative home maintenance can save you huge amounts of time and money later on.
Spring Home Maintenance Tips
1) Change the batteries on smoke and carbon monoxide alarms. Both alarms should be tested monthly, but you should replace the batteries on smoke alarms once a year, and on carbon monoxide alarms every six months. 
2) Check the attic for mold or pests. Before it gets too hot, now is a good time to check your attic for signs of damage, mold, or pests. It's better to get ahead of any problems in your attic because they'll only get worse with time, and can eventually affect the rest of the home.
3) Clean gutters and downspouts. After the falling leaves of autumn and winter, it's best to clean all gutters and downspouts to make sure water is flowing freely away from your home to keep your foundation nice and dry.
4) Repair, seal and paint exterior wood. Freezing temperatures, rain, and snow can take its toll on woodwork. Give your fences, decks, railings, and gazebos some TLC so that you can enjoy them all spring and summer.
5) Check for termites. Eastern subterranean termite infestation is not a problem you want to have. These insects swarm in the spring, usually after a warm rainfall. If you see any signs of them, like small holes in drywall, discolored or drooping drywall, or peeling paint that looks like water damage, call a professional exterminator asap.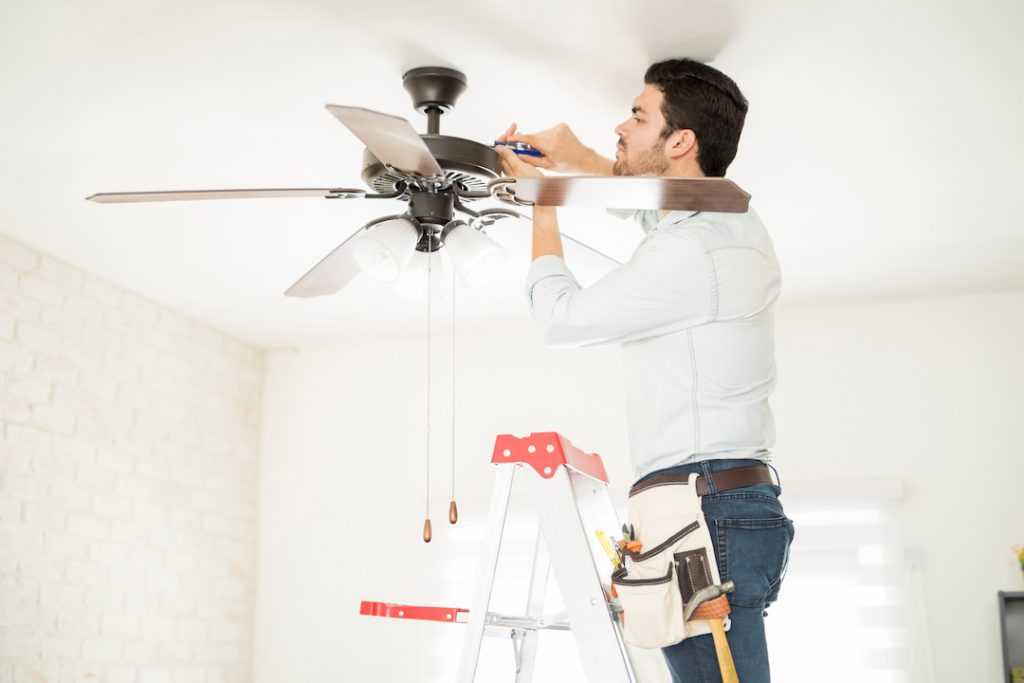 6) Inspect the roof. After winter storms, ice and snow, have a good look at your roof and check for missing shingles, damaged metal pipes, loose gutters, or anything else that doesn't look quite right. Even a small leak can add up to big problems over time.
7) Check sprinklers, hoses, and irrigation systems. Check for any leaks or damaged hoses, pipes or sprinkler heads. By making repairs and ensuring the system is watering only what it should, you'll avoid wasting water and paying a too-high bill.
8) Check and replace damaged screens. One of the best parts of spring is opening the windows to let in fresh air! Make sure nothing unwanted gets in by inspecting window and door screens for holes or ill fits. 
9) Service your HVAC system. Your heating and cooling system will keep your home comfortable for years, but it's always a good idea to change the filter and have the system professionally inspected before summer heat sets in.
10) Check the condition of concrete walkways, driveways, patios, and stairs. Freezing and thawing can cause concrete and asphalt to crack and buckle. Make sure there are no hazards on your property that may cause people to trip or fall. 
In a Weaver home, maintenance is easy, and we make sure your home is in good shape even after you close. Any items that need to be inspected or repaired within your first year of home ownership are taken care of by our warranty department, so that you can continue to enjoy the peace of mind that comes with owning a brand new home.
For more information about our new homes in Pittsburgh North, please contact June at  724-609-5261. We can't wait to welcome you home!