Exciting New Home Kitchen Trends
---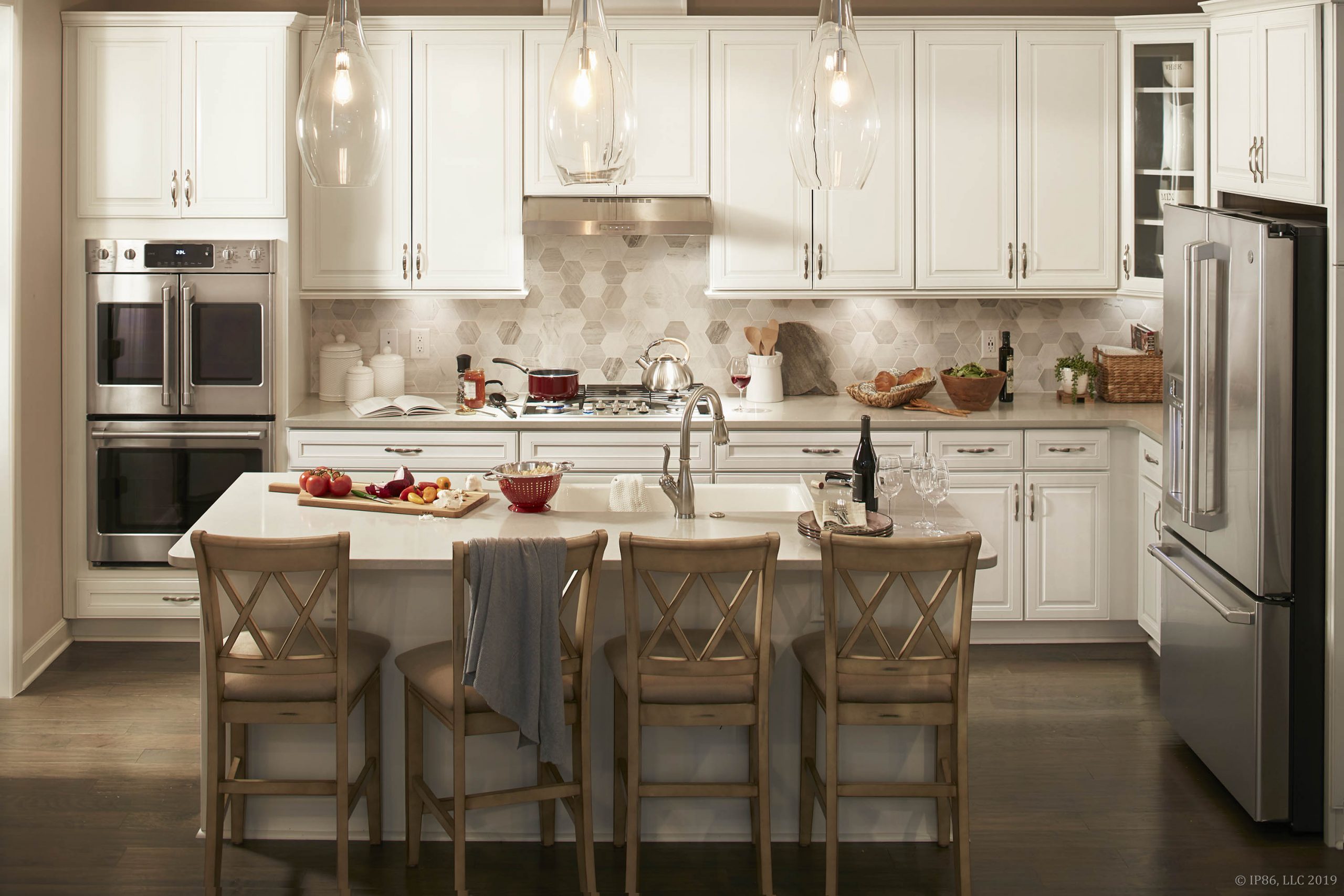 The scent of morning coffee, the sight of a summer meal, a bottle of wine being uncorked… there's no place as warm and welcoming as the heart of your home! With a large island, pristine appliances, beautiful cabinetry, and open, inviting space for all your lively dinner parties and cozy brunches alike, your kitchen is the happiest place to be.
We sat down with our incredibly talented designer, Megan Prazer, to talk about a few of the trendy kitchen features that Weaver has been offering in our new homes in Western PA! From lighting to backsplashes and everything in between, take a look at how one of our kitchens gives you more of everything you love, along with a few of our favorite design trends that will inspire you to turn your kitchen into your all-time dream space:
Exciting New Home Kitchen Trends
Kitchen Pendant Lighting: Oversized, trendy lighting makes a bright statement, and easily draws the eye. You'll love looking at these bold, big pieces so much that you won't ever want to turn the lights off…
Glass Backsplashes: These chic and sleek beauties are making a comeback in the kitchen! They're larger and longer than subway tile, and truly add contemporary pops of elegance to your favorite room. 
Quartz Countertops: Durable, less porous, and low maintenance, the man-made quartz countertops we offer are one of a kind. Simple and beautiful at once, these countertops truly define "what you see is what you get."
Two-Toned Kitchen: The design of your kitchen should be just as full of personality as you are. We create the eye-catching look of a two-toned kitchen by using one color for the surround and another for the island.
Melancholic Blues: When it comes to kitchen colors, there's nothing sad about having the blues… Described as peaceful and secure, we naturally associate the color blue with calmness — which makes it the perfect color to experiment with in the room where you make some of your happiest memories.
Tolani Maple Nightfall: Simple and orderly, this cabinet door style and color combination creates the traditional, clean look you love in your kitchen. 
Our Standard Kitchen Features
More Space: Whether you're enjoying an early homemade breakfast, celebrating a holiday, or throwing a buffet-style luncheon with your friends, you have all the space you need to spread out and savor the moment.
Large Island: An extra large island adds extra large character to your kitchen, and provides something that's just as chic and stylish as it is functional. With room for seating, everyone can sit and relax comfortably.
Elegant Cabinetry: Aesthetically pleasing and highly useful, the cabinetry in your kitchen provides the ample storage you need and the sleek, modern style you love. 
New Appliances and Flooring: With sleek flooring and brand new, contemporary appliances that work perfectly, you'll enjoy cooking and relaxing in your kitchen more than ever before.
More Kitchen Design Ideas
Fun Tile Patterns: Nothing catches the eye like a bold pattern. Geo, hex, linear, penny, and cement tiles with repeated patterns are currently making a splash. See what you're drawn to the most! 
Soft Colors: There's nothing like soft-colored cabinets to give your entire kitchen a warm, welcoming vibe. Classic white or cream, as well as honey- or ash-toned cabinets, always look fresh and elegant. 
Hints of Gold: Tossing in a bit of gold with a neutral like black goes a long way in the kitchen. You can try this sleek look with lighting, cabinet hardware, and plumbing.
So much time is spent in the kitchen… why not turn it into a focal point? If you're eager to design (and enjoy!) a brand new kitchen of your own, all of us at Weaver Homes can't wait to get started. Contact us today at 724-609-5261 to learn more about building a beautiful new construction home in Western PA!