Rightsizing Tips For the Best Experience
---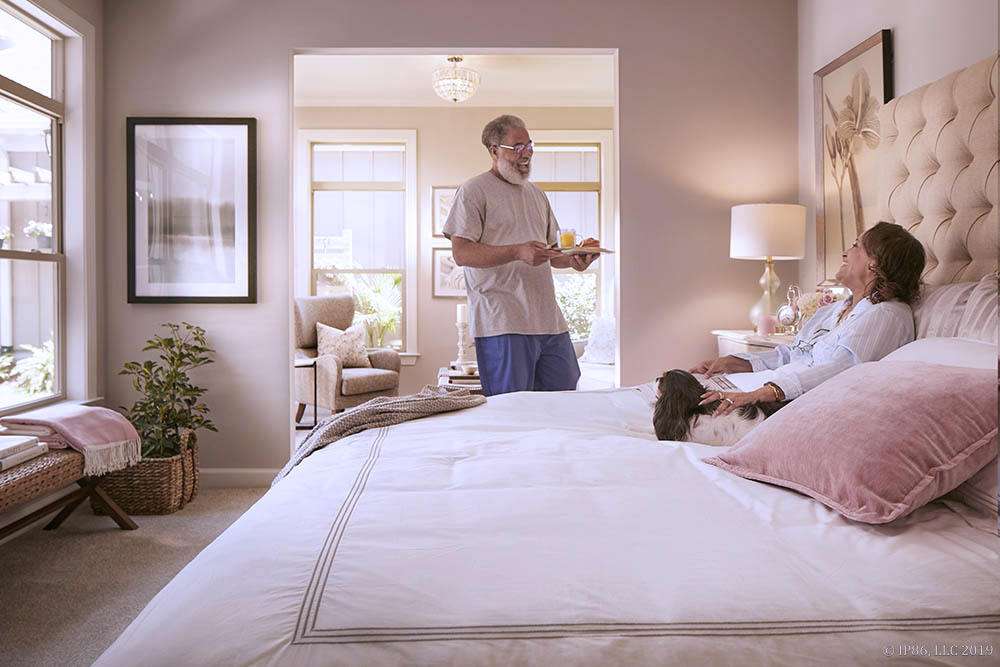 As you look around at your current home, you may realize that your wants and needs have changed. And you're certainly not alone. Right now, you may prefer the comfort of a functional, one-level layout, over a multi-level home with rooms that are going unused. Or a private outdoor living space that connects you to the outdoors, as well as an open-concept main living area that connects you to family and friends.
Most of all, you might want a safe, secure home built with modern design that simplifies everyday living and provides comfort and convenience, no matter what life throws at you. As you enter the next exciting phase of your life, you might be ready to rightsize to a new home around Pittsburgh, where you have a peaceful, private lifestyle community that's close to all of the attractions and opportunities downtown and beyond.
While the process of rightsizing your lifestyle may seem overwhelming at first, our team at Weaver Homes is here to guide you the entire way. We want this experience to be just as exciting and enjoyable as everything that comes next!
The Benefits of Rightsizing
Easy, Single-Level Living: In one of our single-level homes, you'll get to experience the joy (and ease) of the "single life"! When you don't have stairs standing in your way, your moments at home become so much easier, from doing laundry to packing luggage for a vacation. Gone are the days of worrying about accessibility issues or injuries — we build each home to be your trusted source of comfort and convenience.
First-Rate Amenities: Close your eyes and picture yourself spending your days in a peaceful, private neighborhood, where the activities you love are right at your fingertips and the people are as friendly as can be. A few of the amenities you'll find at one of our lifestyle communities include a gorgeous clubhouse with a fitness center, a heated swimming pool, a patio with a grill, and so much more. Best of all, we take care of your home's exterior maintenance for you, so you can spend all of your time enjoying the amenities outside your door without a worry.
Socialization Opportunities: The heart of any great community is the people that live there. All of our lifestyle communities are filled with neighbors who love to live the way that you do — and are always excited to have a conversation or join you for an activity. From social events to fitness classes, you have so many opportunities to engage with people just like you, and of course, make lifelong friends.
Staging Your Current Home to Sell
Once you've decided on your new home, your next task is to sell your current one. And this is where staging comes in! Effective staging isn't just for show — in fact, staging your home the right way will ensure that you sell it as quickly as possible and maximize its sales price, especially in the current market. 
Make Quick Fixes: First thing's first, look for the "quick fixes" — remove old area rugs to show off the hardwood floors, take off curtains and cleaning windows, change lampshades, replace light bulbs for optimal lighting, rearrange furniture, etc. Remember, even little adjustments make a big impact.
Decide on Furniture: When it comes to the furniture in your home, it's essential to make a final decision on what should stay and what should go. Always make sure to keep color, style, and function in mind to make the most confident and informed choice, and really see your home through a buyer's eyes.
Feel Fresh: The majority of potential buyers see your home in photos online before they see it in person, so everything you do in your home should be about that crucial first impression. Think about touch-ups that evoke a fresh and clean feeling like bright flowers, folded towels in the bathroom, and bowls of fruit in the kitchen.
Keep it Simple: Buyers want to look at your old home and envision making it their own. Packing anything that's too "personal," such as keepsakes, artwork, etc. make your home feel like an "open canvas" that's ready to be personalized. Mirrors on the wall also help to create an open, inviting feel.
Preparing For Move-In Day
Packing and preparing for move-in day doesn't have to be stressful! With a few helpful tips and tricks, the process will be easier and more enjoyable than you ever imagined. 
Keep What You Love: Emotional ties to items are normal. But remember that you don't have to get rid of everything. Hand down precious items to your children and grandchildren, donate or sell what you don't need, and keep what you love the most. 
Wrap Breakables in Clothing: Part of efficient packing and moving means saving as much as you can on the cost and space. In order to avoid excessive plastic, wrap breakable items in clothing. You won't have to deal with plastic to throw away, and you'll free up space for your boxes of clothes! 
Use Vacuum Storage Bags: You know how much room your towels, bedding, and pillows take up — but vacuum storage bags make packing them easier than ever. Once you pack the bags, you can use a vacuum to suck the air out of them, compressing them to a much more manageable size. This will maximize space (and minimize any hassle).
Pack Each Room into the Same Box: As you go through each room in your home, make sure to keep items in labeled, respective boxes. This way, when you go to unpack, you'll know exactly where everything is and you won't have to waste time rummaging through boxes.
Find the Right Moving Company: Of course, an incredible moving company can make a huge difference in your experience. Make sure to do your research online (take user reviews into consideration) and get a word-of-mouth recommendation if you can. Do this about eight weeks ahead of your move, so you can schedule the one you want without having to worry about them being overbooked. 
Save Space: There's nothing more helpful than utilizing your space correctly. Use the pots and pans in your kitchen to hold smaller, loose items like a towel stand, spice containers, silverware, and more. Get creative — you can pack smaller items into their larger counterparts to save yourself the headache. 
Get Your Accounts Ready: Before the big move, make sure to cancel any subscriptions or accounts that you need to, and update your address on the services that will be transferred over to your new home. When all of your utility and home services are up to date, you can spend your time focusing on getting settled in. 
Unpacking After You Move In
The day has come — you're all set to enjoy the comfort and relaxation ahead! Although unpacking and settling into your new home is a process, we have a few tips and tricks for making the transition as smooth as possible.
Bathroom and Kitchen First: Once you have your bathroom set up for your nightly routine, you'll know you have something relaxing waiting for you once you're finished with your first day of moving in. Next, start bringing the heart of your home to life and unpack your pots, pans, and other kitchen essentials.
Set Up WiFi: It's easy to forget to check off a few details from your pre-move-in list. If you still have to set up your wi-fi, make sure to call your provider once you've set all your boxes down and are able to take a quick break. Your process will feel less stressful once you have this detail out of the way! 
Sort Dressers and Closets: It may seem like organizing your clothes in the beginning will slow you down, but once you have your things put away, you'll free up so much physical (and mental) space to focus on everything else, from furniture placement to decor and everything in between.
Meet Your Neighbors: Your first day doesn't have to be all about unpacking! Take a walk outside to get some fresh air and say hello to your neighbors. One of the best things about your Weaver Homes community is how much everyone cares about each other — your neighbors will be so happy to meet another friendly face and welcome you home.
If you're ready for a new home that fits your wants and needs, keeps you comfortable, and opens a new world of possibilities every day, all of us at Weaver Homes can't wait to meet you! For more information about our lifestyle communities in the Pittsburgh area, please contact us at 724-609-5261.